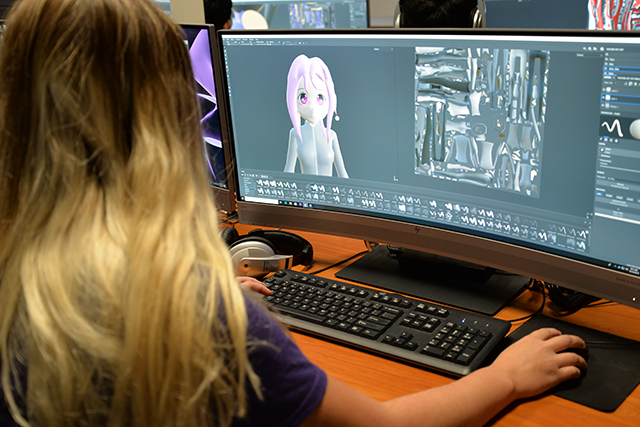 Ready to learn how to model realistic 3D objects, characters, creatures, and effects -- then bring them all to life using animation?
Learn the skills and techniques of the professionals to create realistic 3D for video games, video production, still photography, architecture, manufacturing, marketing, and more!
Learn to use the latest in cutting-edge industry standard software including Autodesk 3D Studio Max, Z-Brush, Substance Painter, Substance Designer, Adobe Photoshop, Adobe Premiere, Adobe Character Animator, and VRay.
Learn about 2D Graphics, 3D Modeling, 2D & 3D Animation, Materials & Mapping, Dynamic Texturing, 3D Painting, Dynamic Sculpting, Particle Systems, Lighting & Cameras, Rending, Cut Scene Design, Special FX, Mapping Techniques, and Character Modeling and Animation.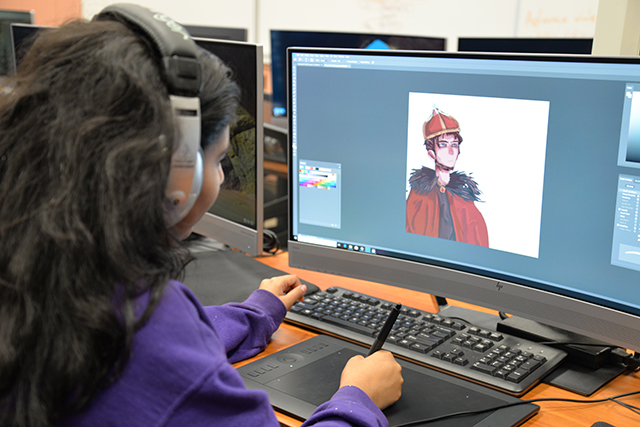 The world of 3D is rapidly expanding, and career opportunities exist in a wide range of fields; including architecture/interior design, product/industrial design, advertising/marketing, entertainment (film/gaming), geology/science, medical visualization, and civil engineering.
In this course, students will pursue an in-depth study of 3d graphics and animation -- including modeling, painting, sculpting, mapping, lighting, rendering, animation, compositing, visual effects, and the history behind it all.
Students will demonstrate and apply what they learn through a series of creative and engaging projects. Projects integrate artistic practices and provide students the opportunity to participate in all aspects of the artistic process -- including creation, presenting, producing, performing, responding, critiquing and connecting. Projects have been aligned with the five strands of the Visual and Performing Arts Content Standards for California Public Schools including Artistic Perception, Creative Expression, Historical and Cultural Context, Aesthetic Valuing, Connections, Relationships, and Applications.
Students will develop the skills and knowledge to be creative partners in industry, while developing artistic habits and dispositions important for university-level studies, as they build capacity for employment in all areas of the creative workforce; preparing for occupations such as 3D Modeler, Advertising Designer, Animator, Architect, Character Artist, Character Rigger, Cinematic Designer, Civil Engineer, Concept Artist, Environment Artist, Game Designer, Gameplay Animator, Level/Environment Designer, Level Lighting Artist, Simulation Artist, Technical Animator, Technical Artist, Texture Artist, UI Artist, and Visual Effects Artist.