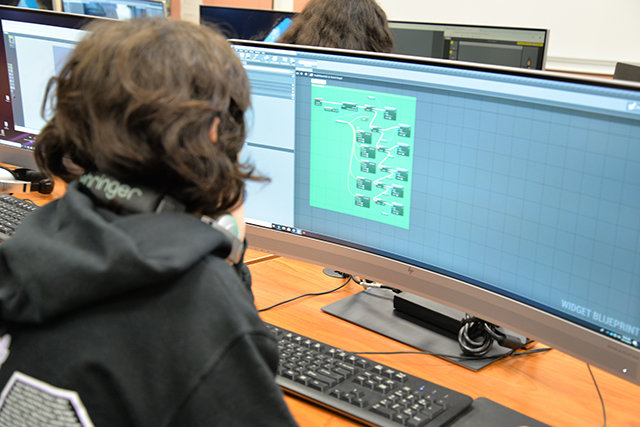 This is the final capstone course in the Digital Arts & Game Arts branch of the DATA pathway.
Students will use everything they have learned in all of the previous Digital Arts & Game Arts DATA courses to work in teams with their friends to build a full game from pre-production, to production, to post-production. This class teaches students how to apply advanced concepts of digital arts, game design, audio production, computer programming, video production, and marketing to produce a successful game.
This course is the closest experience students will have during their high school careers to a real-world business environment in the arts, media, and entertainment industry.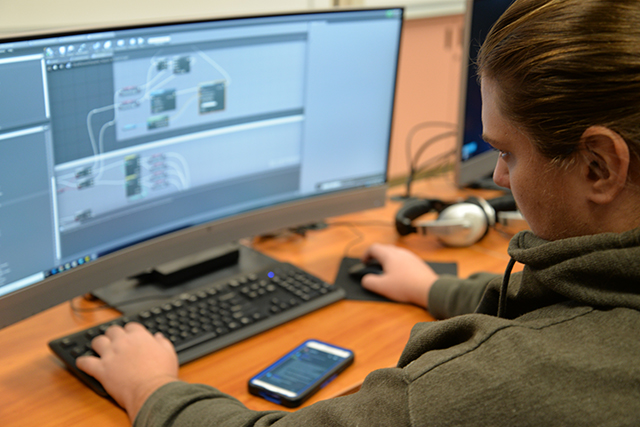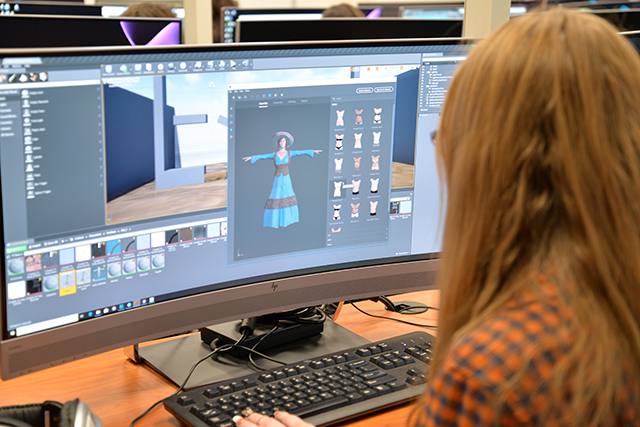 In this course, students will pursue an in-depth study of advanced game design; including an advanced study of game engine architecture, modeling, sculpting, materials, mapping, painting, lighting, cameras, animation, visual effects, characters, level design, programming/scripting, physics, artificial intelligence, networking, user interface design, gameplay theory, content management/version, and digital audio production.
Students will gain career preparation skills by working in teams throughout the course to develop a full working game. Game projects will integrate artistic practices and provide students the opportunity to participate in all aspects of the artistic process.
Students will develop the skills and knowledge to be creative partners in industry, while developing artistic habits and dispositions important for university-level studies, as they build capacity for employment in all areas of the creative workforce; preparing for occupations such as 2D Character Artist, 3D Modeler, Animator, Character Artist, Character Rigger, Cinematic Designer, Concept Artist, Environment Artist, Game Designer, Gameplay Animator, Level/Environment Designer, Level Lighting Artist, Simulation Artist, Technical Animator, Technical Artist, Texture Artist, UI Artist, Visual Effects Artist, AI Programmer, Animation Programmer, Audio Programmer, Cinematics Programmer, Client Systems Programmer, Data Engineer, Engine Programmer, Gameplay Programmer, Generalist Programmer, Graphics Programmer, Mobile Programmer, Multiplayer Programmer, Physics Programmer, R&D Programmer, Rendering Programmer, Server Programmer, Tools Programmer, UI Programmer, Sound Engineer.